The drying of a preparatory product and/or paint is a crucial phase in automotive refinishing. Aside from the economic result, both the immediate and long-term quality level of the paint job may depend on this process. This module provides an overview of the different drying possibilities in the automotive refinishing.
INTRODUCTION
Drying, depending on the product used, may be performed via evaporation of water/solvent (1K products) either alone or through a chemical-physical-type interaction (2K products / UV products).
In the area of automotive refinishing, there are multiple technological solutions developed to accelerate the drying phase of paint products. Those most widely used in the bodyshops will be illustrated below.
As regards the type of technology and products to be used, the decisive parameters for correct drying are as follows:
Increase in temperature (°C/min)
Final object temperature
Total drying times
PREVIOUS MODULES
BASIC KNOWLEDGE - BODYSHOP EQUIPMENT

Separate parameters apply to the UV drying process.
Once the drying has been correctly performed, the painted surface should be resistant to touch, assembly, and to any defects caused by sanding and polishing. In case it is not possible to perform these processes, the actual object temperatures and/or the proper drying times should be checked to make sure that they are compliant with the technical documentation.
BAKING / OVEN DRYING
In this case, it may be a combination of spray booth and oven, or even a separ ate spray booth with a separate oven.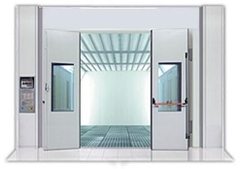 SPRAY BOOTH COMBINED WITH A TRADITIONAL OVEN
This is a cabin for drying all painted .products (e.g. fillers, clear coats), fired by a traditional gas, LPG or natural gas boiler. In this case, the air flow generated by the fan units is fed into the cabin and heated by means of a combustion chamber.
The maximum temperatures that can be reached with this technology average 70 - 75°C.
SPRAY BOOTH COMBINED WITH A DUCT OVEN (DIRECT FIRED)
This cabin runs on an air heating system that differs from the traditional oven. As opposed to traditional boilers, air is heated directly by the flame, thus reaching pre-set temperatures in a very short period of time and in this way allowing for a reduction in energy and fuel costs (natural gas or LPG) as well as processing times.
Drying times are reduced due to the ability to reach temperatures higher than those in traditional cabins. Furthermore, the temperature inside the cabin is kept much more stable than with traditional ovens.
The maximum temperatures reached with this technology are from 80 - 90°C.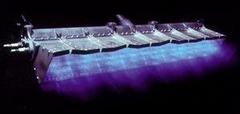 Spotlight with flame

For the drying of each product, the surface temperature is important (e.g. Clear Coat 60°C)!
INFRARED DRYING
What is infrared?
In physics, infrared radiation (IR) is radiation with a frequency band on the electromagnetic spectrum between 0,800 nm and 0,5 mm (infrared band).
The table in next picture shows the various radiations with the relative wavelengths.
WAVELENGTH OF IR

Classification of wavelength; (1) UV area, (2) Visible area, (3) IR-A area, (4) IR-B area, (5) IR-C area, (6) Radio waves
STANDARD CLASSIFICATION OF THE IR BAND

Short-wave infrared (IR-A) NIR - Short IR wavelength 800-2500nm
Short wave: Tendency to higher surface temperatures, shorter drying times.

Mid-wave infrared (IR-B) MIR - Medium IR wavelength 2500-50000nm

Long-wave infrared (IR-C) FIR - Long IR wavelength 50000-500000nm
Mid- wave and longwave have lower surface temperatures and longer drying times.
(1) IR-A area
(2) IR-B area
(3) IR-C area
(4) IR-A curve
(5) IR-B curve
(6) IR-C curve
(7) Power spectral density w(µm)
(8) Wavelength λ (µm)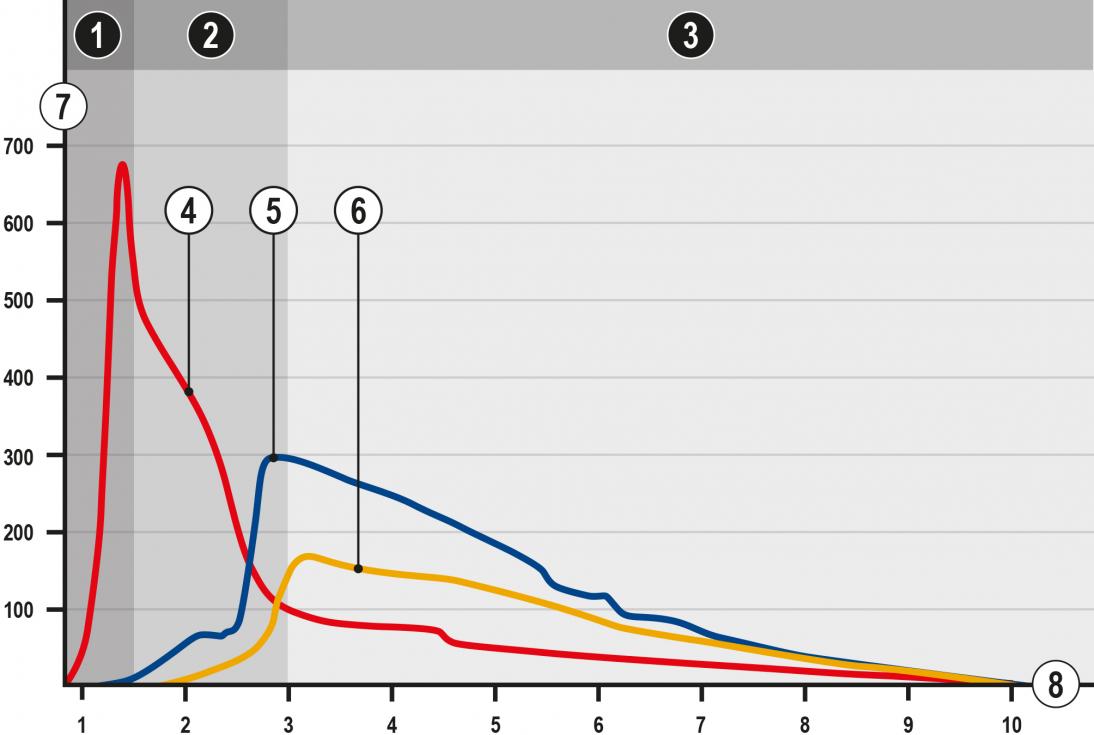 Standard classification of the IR band
TYPES OF IR UNITS / DIFFERENT SYSTEMS
The following described IR units are standard equipment:
STATIC WHEELED OR SUSPENDED OVENS
Suitable for drying polyester putties, primers, primer fillers, fillers, basecoats and clearcoats.
Suitable for drying one panel at a time. Such IR units are installed both in preparation bays, spray booths and Multi Working Places.
Repair size:
1 to 2 parts.
IR spectrum:
IR-A and IR-B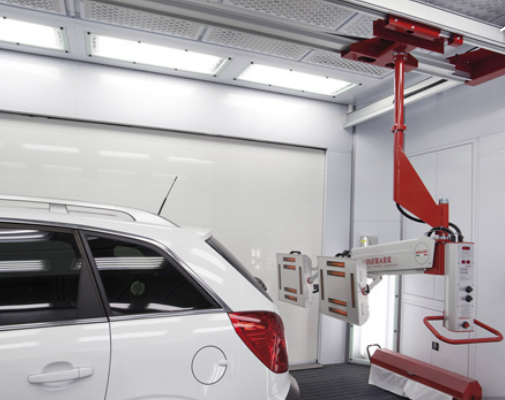 Static wheeled or suspended units / Cassette dryers
ROBOTIC ARCH OVENS
Suitable for drying primers, primer fillers, fillers, basecoats and clearcoats.
Drying can be carried out in a single step for complete paint jobs. Such units are usually installed in spray booths.
Repair size:
Single panels up to complete paint jobs / cars.
IR spectrum:
IR-A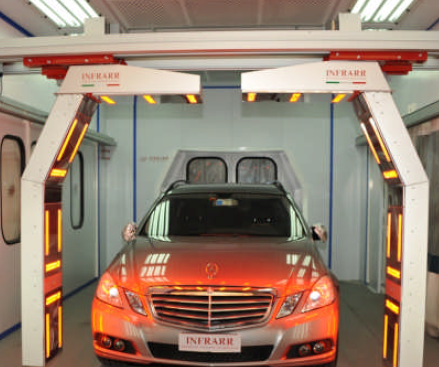 Robotic arch units
SEMI ARCH SUSPENDED ROBOTIC OVENS
Suitable for drying polyester putties, primers, primer fillers, fillers, basecoats and clearcoats.
When drying various panels spaced apart, multiple drying steps must be performed. Such units are installed both in preparation bays and spray booths.
Repair size:
1 up to 3 parts.
IR spectrum:
IR-A and IR-B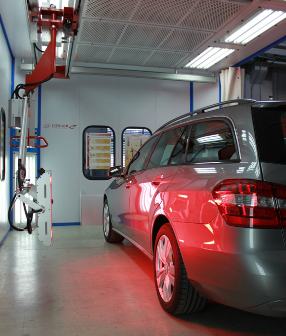 Semi arch suspended robotic units
SPRAY BOOTHS WITH INTEGRATED IR LAMPS
Spray booths with integrated IR units
Repair size:
Single panel up to complete paint jobs. (Overall Resprays)
IR spectrum:
IR-B and IR-C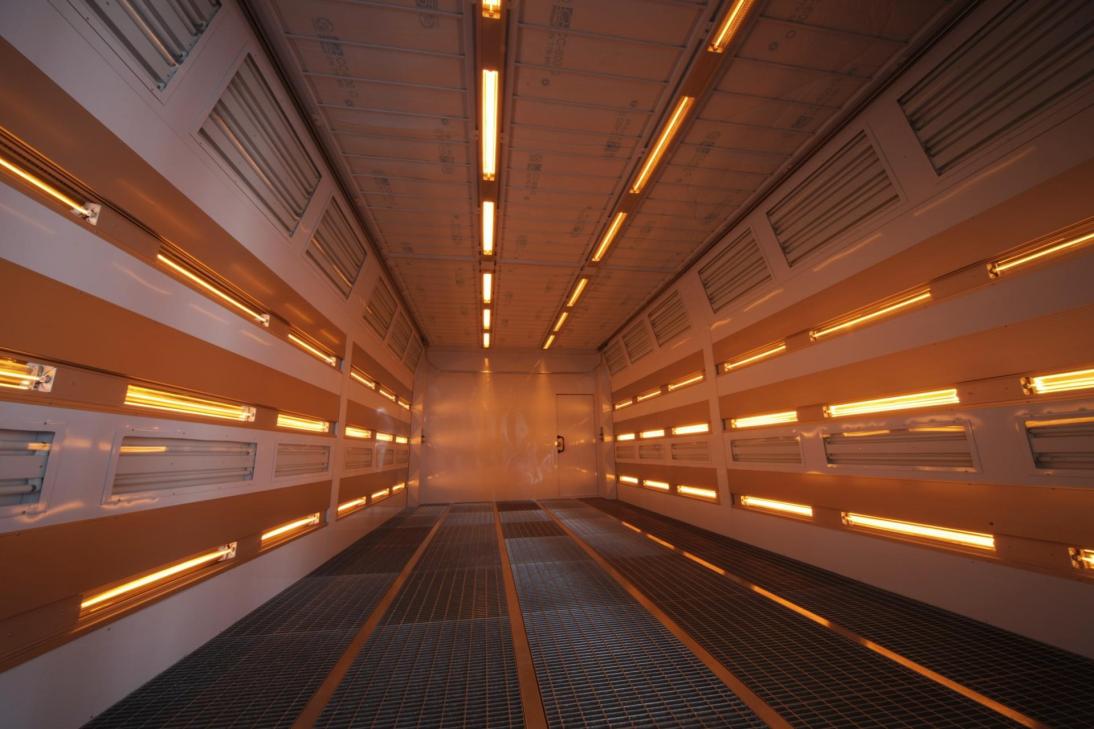 Spray booths with integrated IR units
CATALYTIC GAS IR PANELS
These are IR units that set off a catalytic chemical reaction due to the combination of hydrogen and oxygen.
Repair size:
Depending on the equipment, systems are available as individual panels, as a semi-arch or as an arch for drying single parts up to complete paint jobs. (Overall Resprays)
IR spectrum:
IR-B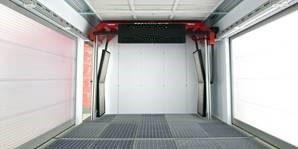 Catalytic gas IR panels
SPRAY BOOTH WITH ENDOTHERMIC PANELS
Longwave radiation IR.
Repair size:
Individual panels up to complete paint jobs. (Overall Resprays)
IR spectrum:
IR-C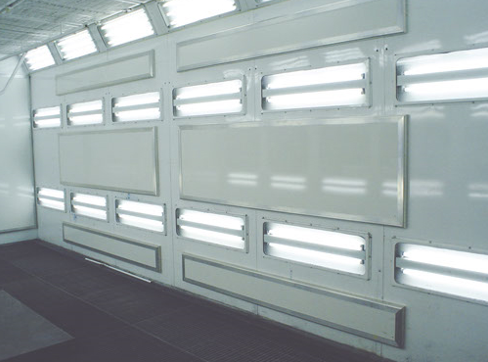 Spray booths with endothermic panels

Apart from these devices, there are many other manufacturers of IR units.

DISTANCE, PROTECTION OF TEMPERATURE SENSITIVE PARTS AND GENERAL ADVICE
If infrared drying is used, all layers of the painting cycle must be dried with the same technology in order to avoid air bubbles due to possible solvent residues in lower layers that have not completely evaporated.
Make sure that the lamp is kept at a distance from the object as per the manufacturer's instructions, or follow the indications provided on the display using the models equipped with distance sensors.
In some cases, especially when using lamps without a distance sensor, it is important to monitor the object temperatures with a manual IR thermometer since these may differ from the initial setting depending on the type of substrate (steel, aluminum, plastic), as well as the total layer thicknesses in areas with a double skin.
The use of robotic IR systems provides for an increase in temperatures given that the exposure of the panel to radiation takes less time than in static systems. For this reason, it is advisable to adjust products with very slow catalytic converters and thinners to prevent bubbles from forming.
Safely protect from heat (e.g. with an aluminum foil) all plastic objects present in the drying area to prevent deformations.
IR drying is not performed in the same area during the painting phase (to avoid explosion hazards!).
In general, IR drying, with the exception of long-wave systems, allows deep drying of products in shorter times than oven drying. It should also be noted that IR drying requires greater respect of the nominal film thickness of the product and the precise setting of drying times and temperatures in order to avoid problems with e.g. solvent boils, loss of gloss, etc.
DRYING PARAMETERS
For the drying temperatures of the various products, please consult the Technical Information using the following link to the official website:
UV DRYING
UV light is a electromagnetic radiation whose wavelength is located just beyond the violet range of visible light. It is divided into UV-A (320 – 400 nm), UV-B (280 – 320 nm) and UV-C (200 – 280 nm) radiation. The shorter the wavelength, the higher the energy.
Important factors for the reaction of UV coatings are the photoinitiators and the binder or resin with double bonds. The chemical reaction starts when the UV radiation cracks the photoinitiator.
Here you can find full information about the UV drying:
AMBIENT TEMPERATURE DRYING
Ambient temperature drying is also possible although it is less economic in terms of working times.
In the case of ambient temperature drying, the drying process is based on the evaporation of the volatile components of the paint film. Blow equipment (e.g. Dry Jet) as well as the Air-Drying Additives will reduce flash-off times and ambient temperature drying times.
The conditions in the work environment, such as, for example, the temperature, relative humidity, specifications of air speed and thicknesses applied have to be considered. If these conditions fall outside certain parameters, they may have a negative impact on the quality of the repair. To help you to choose the right product, click on the following link to consult the temperature charts with the respective catalysts and thinners: